Erap inaugurates newly refurbished Quinta Market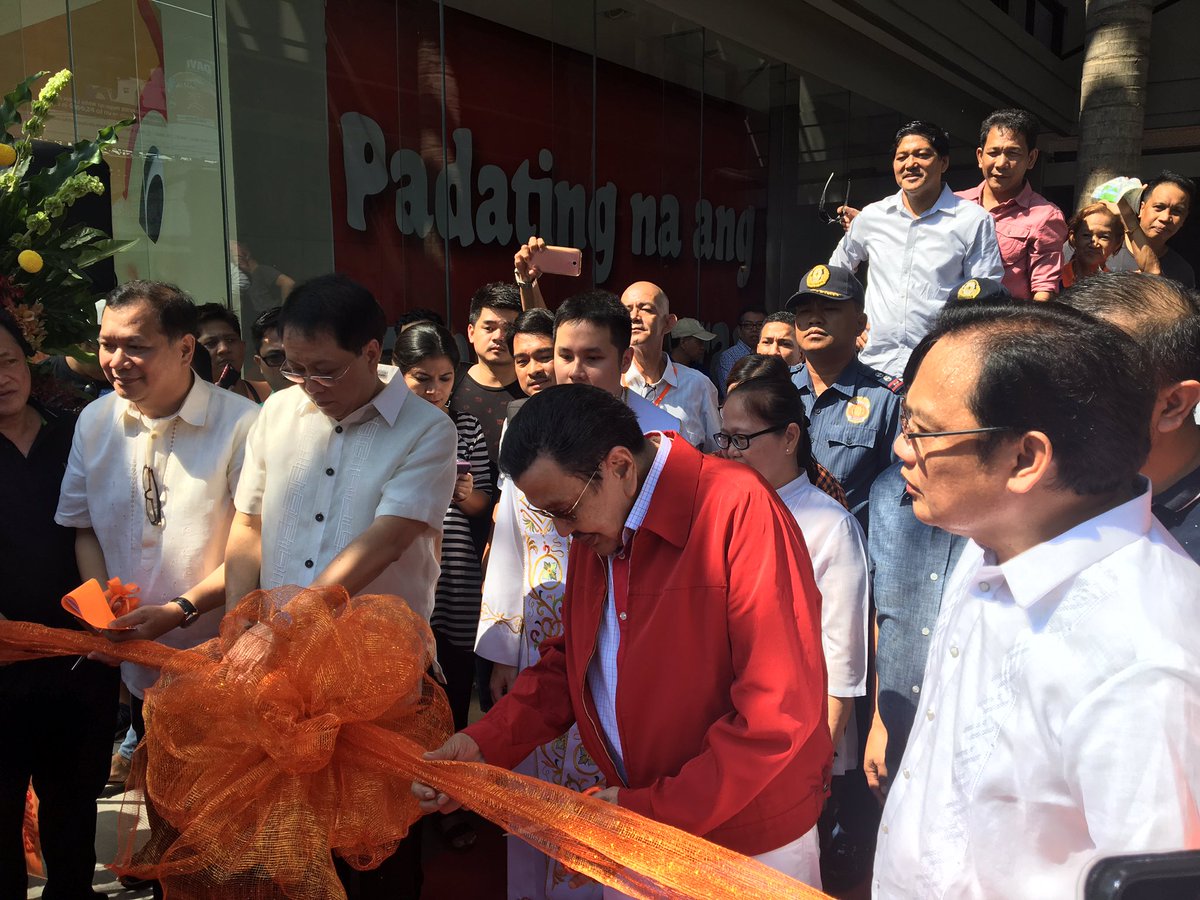 MANILA, APRIL 19 (PIA)—Mayor Joseph Estrada inaugurated Wednesday (April 19) the newly refurbished Quinta Market
According to City Engineer Roberto Bernardo, Quinta Market has modern wet and dry sections and stalls, elegant restrooms, a food court, security cameras and even free Wi-Fi connections.
Bernardo said the more than 200 vendors affected by the rehabilitation of Quinta was allowed back inside to occupy the ground floor, which has been designated as a wet-and-dry goods area. The second and third floors will be for parking and other commercial outlets.
Vendors earlier feared that the upgrade would mean higher rental fees, but Estrada assured them that the new rates would be "acceptable, justifiable, and not excessive."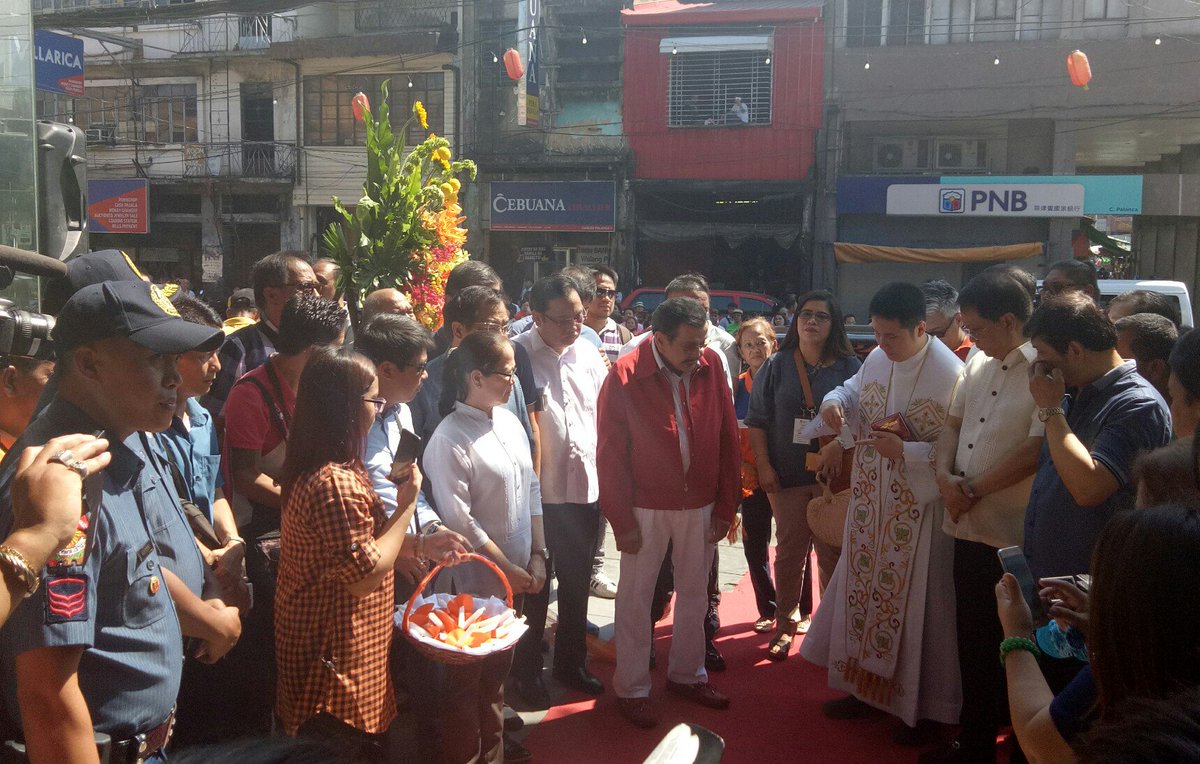 Estrada awarded vendors "certificates of tenure" to ensure that they would have a spot inside the new Quinta market. They were also allowed to set up temporary stalls rent-free along the market's perimeter.
The mayor reiterated that the public markets would "remain owned by the Manila city government, and accessible and affordable to Manileños."
"I am very happy to see the improvement of Quinta Market. Public markets in Manila should be like this — modern and clean, like a shopping mall, for the convenience of both the marketgoers and vendors," the mayor said.
Located in Carlos Palanca Street near the Pasig River, Quinta Market has been a famous landmark in Quiapo but its dilapidated state prompted the city government to have it renovated and modernized.
The city government did not spend a single centavo in these undertakings because these are all under a joint venture agreement with private developers.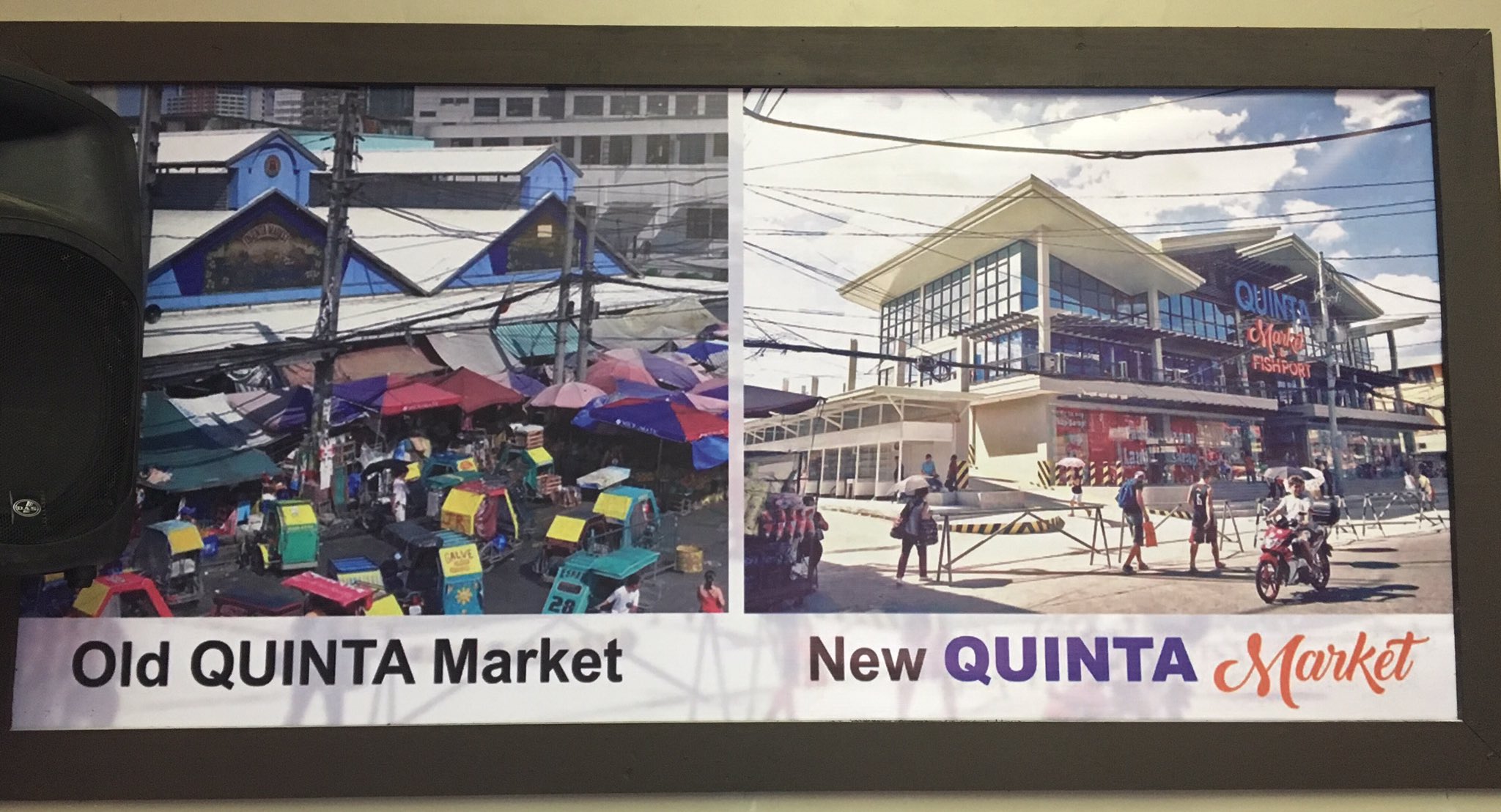 Estrada is optimistic the modernized Quinta Market will boost trade in Quiapo, especially with the completion of a nearby ferry terminal that will attract traders and consumers from Metro Manila and nearby provinces.
The fish port, he said, will service fish traders and barges from various locations, especially Navotas, who will be bringing in fresh produce.
The fish port is part of the P90-million renovation works being undertaken by Marketlife Management and Leasing Corp. (PIO Manila/RJB/SDL/PIA-NCR)
---
Other News
QC Council passes ordinance granting P5k emergency medical assistance for elderlies
QUEZON CITY, Aug. 23 (PIA)--The Quezon City Council has passed an ordinance granting a P5,000 emergency medical assistance for elderly residents admitted in hospitals owned by the city government.   City Ordinance 2598-2017 also known as "Quezon City Emergency Medical Benefit Assistance for Senior Citizens" authored by Councilor Rogelio P. Juan aims to provide financial relief to our senior citizens and to their families who are already burdened emotionally and economically of the medical condition of their elderly.   Funding for the assistance will be taken from the one perc
...Read more
CRDRRMC advises tourists against trekking with the inclement weather
  BAGUIO CITY, Aug. 22 (PIA) - - The Cordillera Disaster Risk Reduction and Management Council(CDRRMC)  advises the public not to go trekking or mountain hiking with the  enhanced Southwest monsoon due to Tropical Storm "Isang". Leticia Dispo of PAGASA Baguio, in the CRDRRMC Emergency Response Preparedness (ERP) meeting  today, affirmed that light to moderate rains with occasional moderate to heavy rainfall will prevail over Cordillera until Wednesday as even though TS "Isang" is now moving out of the Philippine Area of Responsibility, it continues to enhance the southwest m
...Read more
34-nation ACD kicks off series of meetings in Panglao
PANGLAO, August 7 (PIA) -- The four-day Asia Cooperation Dialogue (ACD) that tackles energy security, sustainability and resiliency started their series of meetings on August 7 at the Plenary Hall of Be Grand Resort in Panglao Island, Bohol. Gov. Edgar Chatto welcomed the delegates to the conference, as he thanked the organizers for giving Bohol the opportunity to host this international event.  Chatto said Boholanos are extremely impressed that the ACD, which has 34 member countries, chose Bohol as this year's venue.  Bohol also hosted the meetings of the Association of S
...Read more
DENR-EMB grants P500K for Larena solid waste management program
SIQUIJOR, August 9 (PIA) -- The municipal government of Larena is a recipient of a grant of P500,000 from the Department of Environment and Natural Resources (DENR) Environment Management Board (EMB) in Region 7. The amount is intended for the construction of a Material Recovery Facility (MRF) building and purchase of a shredder machine in line with the Solid Waste Management program. The required documents were already submitted to DENR to support the immediate release of the funds. These include ownership of the lot (Certificate of Land Title, Deed of Donation, Tax Declaration), De
...Read more